Litter planning summer 2022
We are very much looking forward to the first puppies of our Grace Kelly.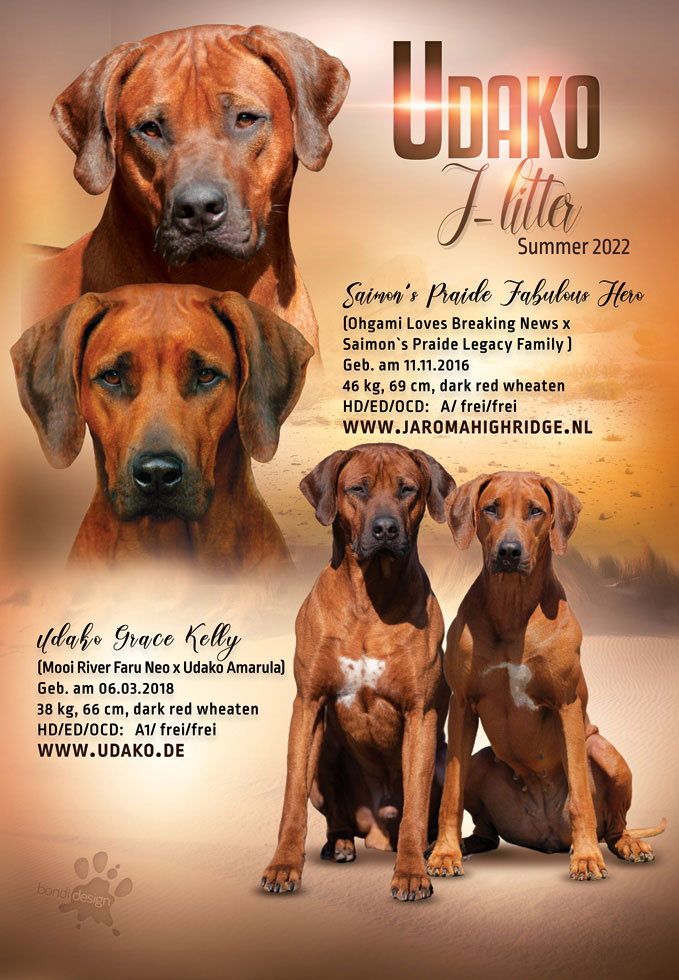 For this I chose the experienced Dutch male Saimon's Praide Fabulous Hero, affectionately called "Brownie". With his beautiful male head and good bone strength, he not only fits Grace optically, but above all has such an excellent character that I was already in love with him during our first visit last year. "Brownie" is well-balanced and just friendly to people and animals and so easy to lead in any situation. Nevertheless, he is athletic and I would like to see friendly, strong natured puppies out of this connection that are not only cuddly and family friendly, but also carry on the fun temperament that I love so much in my own dogs!!!
The harmonious mating has already taken place on 3rd March and if nature blesses our plan, then we expect the puppies around 1st May.
More about the course of pregnancy, birth and everything else then always under NEWS on the homepage.
Pictures of Brownie
Pedigree of the Puppies
Eltern
Groß­eltern
Ur – Groß­eltern
SAI­MON'S PRAIDE FABU­LOUS HERO
NHSB 3086452
RUS CH UA CH C.I.B. OHG­AMI LOVES BREA­KING NEWS
C.I.B HR CG BH A SLO CH SLO JCH HR BIH SLO MYÖL­LNIR KYALA SLR RR – 000042
S UCH REX VEN­TORS OKA­LANI S45019 / 2007
SAI­MON'S PRAIDE LEGACY FAMILY
JCH RU; JCH Club RU; CH RU, UA, BY, CH RKF; CH Club RU; SIN­HILL RID­GES APO­LLON BIS Win­ner; BIS Prize Win­ner; Eurasia Win­ner 2010 RKF2­307474
RU MC UK MD BG SR BY LT RO CH VAYO­MI SHA­KIRA OF SAI­MON'S PRAIDE RKF19­56630
UDAKO GRACE KELLY
VDH18 / 109 13669
MOOI RIVER FARU NEO
VDH 15 / 109 11531
YE JAPHA MALIK JAH­ARI
VDH 07 / 109 5789
MOOI RIVER ENTA­BA PIPER
VDH 12 / 109 09407
Dt. Jug.-Ch. Dt. Ch.
UDAKO AMA­RULA
VDH 11 / 109 08343
NYAN­GANI COUGA
VDH 07 / 109 5394
Dt. CH NDOKI CHAM­CHELA
VDH 08 / 109 6286