The mating of Naomi and Bestik took place at the beginning of June.
If nature supports our project, then around August 05th puppies will be born again in our home.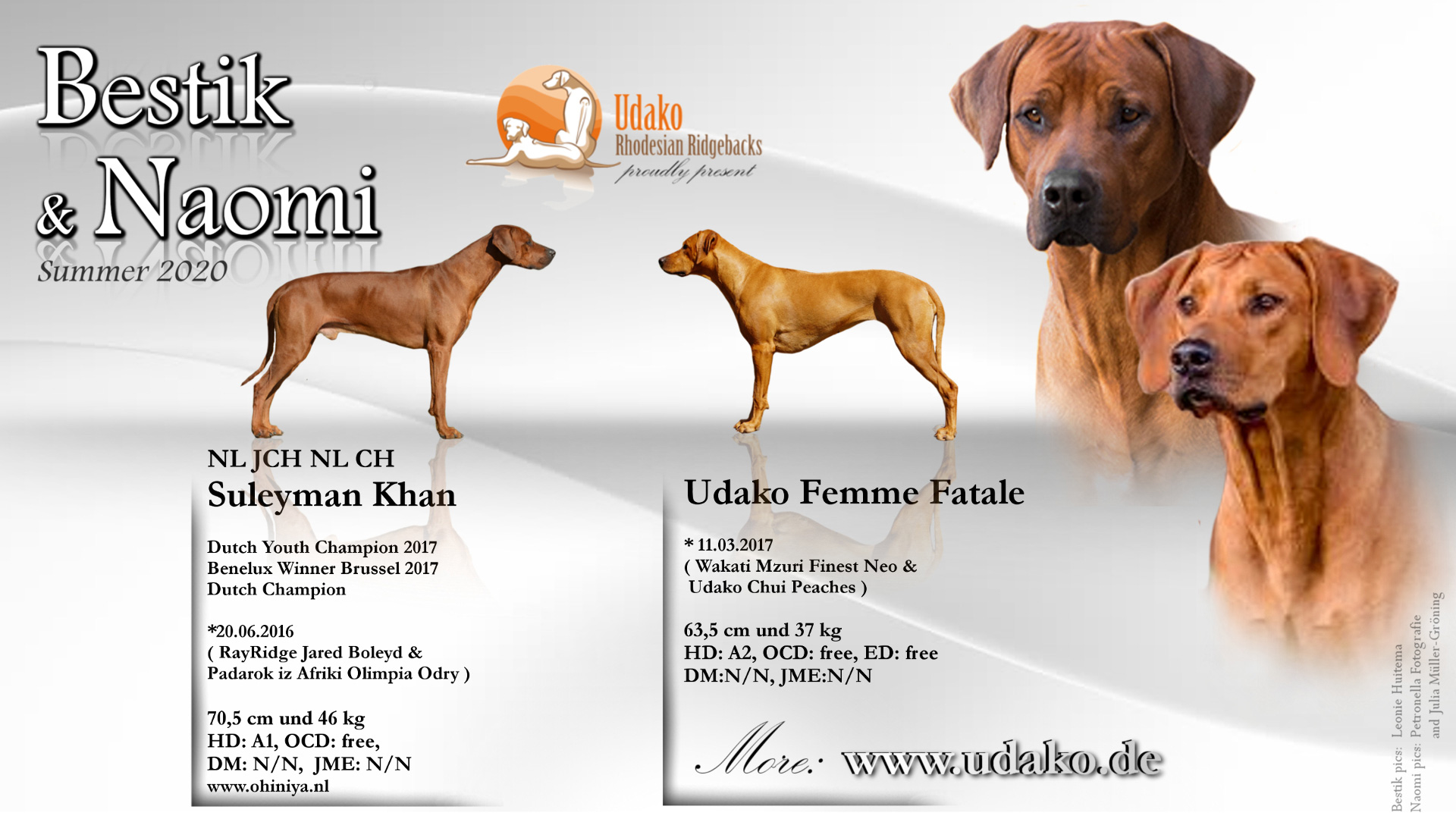 NL JCH NL CH Suleyman Khan "Bestik" & Udako Femme Fatale "Naomi"
---
My choice this time was a foreign male, which I not only like optically very much but also has an interesting pedigree. Bestik was imported from Russia to the Netherlands and his bloodlines go back to old Africa. With his owners he is first and foremost a family dog but he is also successful as a show dog. He is sporty, cuddly and also has the typical Ridgeback characteristics.
Just like our Naomi he is a substantial dog and he has a beautiful male head.
We expect healthy puppies from this mating with a great bone strength, an appealing appearance and above all a curious and bright character, which have all the qualities that a running dog should have.
---
Pedigree
parents
grandparents
great-grandparents
NL JCH NL CH Suley­man Khan "Bestik"
NHSB 3072706 (imp.RU)
Int. & Multi CH RayRidge Jared Boleyd
CIB MultiCH Patrick Die Groot Wenner
CIB MultiCH Ridge's Star Zidana Rous
JCH Rus CH en RKF CH Pod­arok IZ Afriki Olimpia Odry
CH RKF CH Rus CH UKR JCH Rus Faira Bwana Byron
JCH Rus CH Rus CH RKF CH RFLS CH RFSS Pod­arok IZ Afriki Eniola Soueto
UDAKO Femme Fatale "Naomi"
VDH 17/109 12778
WAK­ATI MZURI Finest Neo
VDH 13/109 09504
KANGE­LANI'S Gentle Thanzi by Clay
NO5064/07
WAK­ATI MZURI Bakiri Lubaya
VDH10/109 7344
UDAKO Chui "Peaches"
VDH 14/109 10521
Azizi Nille Kwa­Nyoni
Dt. Jug. – Ch. Dt. Ch. UDAKO Amarula
VDH 11/109 08343